THIEN LONG WAS HONORED IN THE TOP 10 VIETNAM GOLD STARS IN 2018
Among the 200 businesses awarded at the Vietnam Gold Star Award 2018, Thien Long Group is one of the 10 most outstanding brands.
The Vietnam Gold Star Award is an award for out-standing brands and products of Vietnam, which has been organized by the Central Vietnam Youth Union in coordination with the Central Vietnam Young Entrepreneurs Association since 2003.
200 businesses generate 1 million billion in revenue
In 2018, from nearly 400 business records in more than 50 provinces and cities registered to participate, the award voting committee has implemented through three rounds: prequalification, evaluation, and general selection.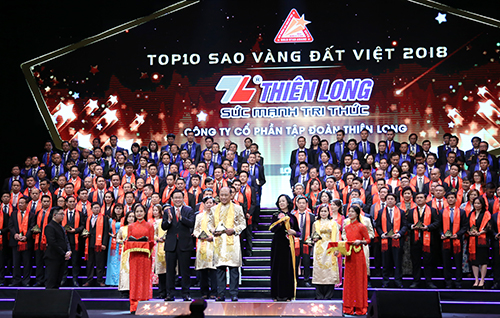 Ms. Truong Thi Mai, Member of the Politburo, Secretary of the Party Central Committee, Head of the Central Commission for Public Affairs and Mr. Vuong Dinh Hue - Member of the Politburo, Deputy Prime Minister awarded the Vietnam Gold Star Award for Mr. Nguyen Dinh Tam - General Director of Thien Long Group.
2018 is the first year that the Voting Council selects the way to score an enterprise through Vietnam to form a group of criteria to rank the company by weight for each criterion including Group of criteria on size (revenue, sources capital, labor ...); Group of performance criteria (profit, net profit on equity); Group of responsibility criteria (budget contribution, average salary ...) and some other priority criteria.
The 200 enterprises awarded this time have generated nearly 1 million billion VND in revenue, contributed over 72,000 billion VND to the state budget, and created jobs for over 417,000 employees.
Speaking at the awards ceremony, Deputy Prime Minister Vuong Dinh Hue assessed that the Vietnam Gold Star Award has been implemented successfully over the past 15 years. With over 140,000 newly established businesses, the Deputy Prime Minister wanted the Young Entrepreneurs Association to continue fostering and developing the growing and growing team so that more businessmen can stand in the Vietnam Golden Star team.
Thien Long Group as a Leading brand
According to the organizers, the businesses in the Top 10 Vietnam Golden Star are strong enterprises. The organizers also believe that the appearance of famous Vietnamese brands in the Top 10 Vietnamese Gold Stars makes this playground increasingly prestigious.
Mr. Nguyen Dinh Tam - General Director of Thien Long Group participated in receiving the Vietnam Golden Star Award in Hanoi. Thien Long pursues a sustainable development strategy based on strong internal resources. According to the latest figures, in the first 9 months of 2018, Thien Long's revenue was VND 2,105 billion, up 10% over the same period last year, profit after tax reached VND 249 billion, fulfilling more than 85% of the plan approved by the General Meeting of Shareholders.
Thien Long has a diversified product structure in the stationery industry in Vietnam with more than 550 products belonging to 5 brands: TL pens, Bizner premium products, FlexOffice office supplies, Điểm 10 students tools, and Colokit art equipment.
In the past two years, production and research and development of products are two areas that Thien Long focuses on technology investment.
After building a new factory with an area of ​​over 8,000m2, Thien Long imported a series of high-tech machines and automatic production lines from Switzerland, Japan, and South Korea ... to increase productivity, accuracy, and quantity of the product. Recently, Thien Long has successfully tested and produced various pen heads, proceeding to reduce the dependence on imported pen heads and improve cost management efficiency.
Thien Long produces plastic molds by itself, meeting 95% of mold demands; produce ink by itself, meet 50% of production ink demand to be proactive in raw material sources, and produce automatic assembly machines. The rate of automation reached 73.5% at the end of 2017 is an impressive figure of Thien Long.
Currently, Thien Long has exported to 60 countries and covered 11/11 Southeast Asian countries. In 2017, Thien Long has very high growth markets such as Myanmar, Philippines, Thailand ... and gradually owns in Southeast Asia in terms of market coverage, sales, and brands.