THIEN LONG GROUP WAS RECOGNIZED AS A NATIONAL BRAND
Thien Long is one of 97 Vietnamese enterprises honored as National Brand in 2018.
Promote national image through products
The National Brand Program is the only program of the Government of Vietnam conducted to promote the national image and national brand through product brands (goods and services). This is a long-term trade promotion program aimed at building and promoting trade names, geographical indications, and trademarks of Vietnamese goods and services on domestic and foreign markets.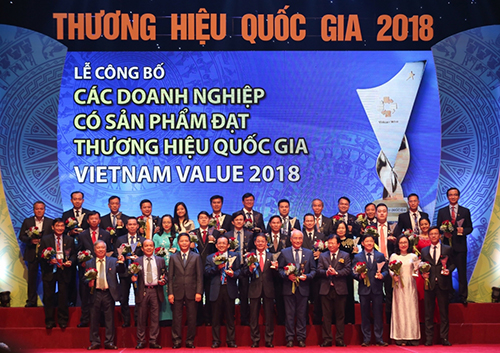 The selection of National Brand is just the beginning for businesses to become partners of the Program. The state does not act on behalf of businesses but will patronize brands with quality products and business prestige, to help Vietnamese enterprises to create a firm foothold in the domestic market and to have conditions to develop their brands to the world.

In 2018, 500 businesses submitted applications for approval of National Awards. Through the process of evaluating, verifying records, and conducting field surveys, the Organizing Committee selected 97 enterprises whose products achieved the National Brand in 2018, an increase of 9 more enterprises compared to 2016.

According to the Department of Trade Promotion (Ministry of Industry and Trade), the contribution of enterprises with national brands into the economy is extremely large. According to the report of 81/88 enterprises at the 5th National Brand program (organized in 2016), the total revenue of these businesses in 2017 reached over VND718,000 billion, the total export revenue reached over VND70,000 billion. VND, and creating jobs for more than 300,000 workers.

Speaking at the announcement ceremony, Deputy Prime Minister Trinh Dinh Dung said that the business community's results, especially enterprises with products with national brands, achieved in recent years are a very important foundation. It is important to promote businesses to create many new quality products and contribute to the development of the social economy.

The Deputy Prime Minister wanted businesses with national brands to continue pursuing the values ​​of the program: quality, innovation, creativity, and pioneering capacity; deserve the trust and love of consumers with products and services of Vietnamese brand.
Thien Long as the National Brand

2018 is the second year that Thien Long is honored in the list of national brands. To achieve this title, Thien Long must meet many strict criteria of the Department of Trade Promotion (Ministry of Industry and Trade).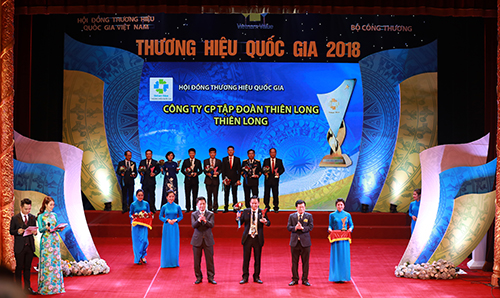 Established since 1981, Thien Long has risen to assert the No.1 position in the stationery industry in Vietnam. Not stopping there, Thien Long also wants to go further when pursuing a sustainable development strategy based on strong internal resources.

The internal strength of Thien Long manifests in many aspects from production to distribution system, trading in domestic and export markets. Thanks to a methodical investment in production systems, Thien Long has created many new values, promoted diversification, and improved product quality.

Up to now, Thien Long has a leading diversified product structure in the stationery industry in Vietnam with more than 550 products belonging to 5 brands including TL pens, Bizner premium products, FlexOffice office supplies, Điểm 10 student tools, and Colokit art equipment. Thien Long's products have served most consumers for students of pre-school, primary, secondary and tertiary education to office workers, management levels, etc.

Thanks to the wide range of products combined with a wide distribution network with more than 60,000 selling points in 63 provinces and cities, Thien Long's products have become familiar and trusted by Vietnamese consumers.

Also, Thien Long's products confidently enter the world market and leave a strong impression: exports in 60 countries, available in 11/11 Southeast Asian countries, and conquering many other fastidious markets like America, Europe, and Japan.

In the future, Thien Long is constantly expanding its business to get closer to the goal of becoming the No.1 stationery company in Southeast Asia and Asia's leading stationery production and business.

In addition to being recognized as a National Brand, Thien Long has just been honored in the Vietnam Golden Star Award 2018. Thien Long also won the title of Top 50 best-listed companies in 2018 voted by Forbes and Top 50 2018 was awarded by Nhip Cau Dau Tu.